The quarterfinal stage of Worlds 2020 is now over. G2, Damwon, Top Esports, and Suning getting their spots to the semis. This year, the Worlds 2020 live broadcast saw another peak in its viewership with almost 2.5 million viewers. Both European teams, Fnatic and G2, made their respective games a sight for sore eyes. This pretty much confirms that the EU stage could have the biggest fanbase in the LoL esports community.
According to Esports Charts, the Worlds 2020 viewership peaks during the Fnatic-TES and G2-Gen.G games with the first having the highest viewer count in the whole tournament. More specifically, 2.419.099 viewers saw the Fnatic vs Top Esports match while 2.310.319 saw the G2 vs Gen.G. This sets the stage for the third-highest watched match. LGD vs Gn.G match is the third one, standing at 1.847.987 viewers. This is almost half a million viewers less than the quarter-finals.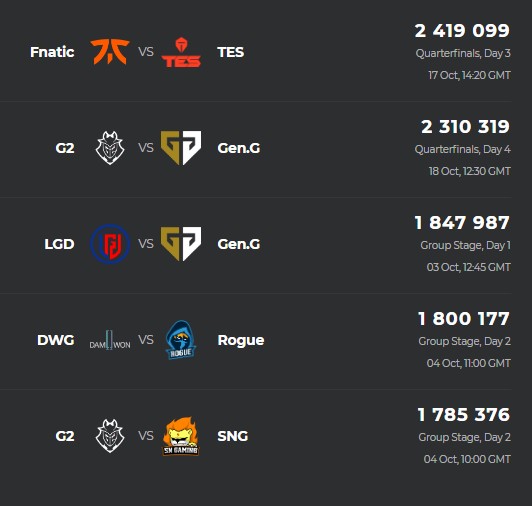 The semifinals kick off on October 24th, with G2 vs Damwon clashing their swords for a spot in the Worlds 2020 finals. Suning and Top Esports will fight on October 25th. It's still uncertain how the viewership for the finals will shape up to be. However, it's more likely that it will top the 2.4 million viewers it already has.
In 2019, the Worlds finals saw a 21.8 million average minute audience with a 44 million peak concurrent viewers. Although this year there will be fewer attendees to the venue than last year's finals in Paris, the viewership is more likely to be even further up. We shall know for sure in a couple of weeks.
Unlike all previous LoL tournaments this year, the Worlds 2020 finals will be set in a stadium with live audience. The organizers will still need to get huge safety measures due to the COVID-19 outbreak. However, Riot Games promises that the show will still include AR and visual enhancements to bring K/DA and more to life.