League of Legends is getting a brand new patch next week, 10.15 which introduces a brand new champion Lillia, skins, and a new mode Nexus Blitz. Apart from the main game, TFT is also getting its own iteration of patch 10.15 with a variety of buffs and nerfs. Plunder Planet, a new map variation is also coming.
The nerfs and buffs for TFT 10.15 patch were uploaded on Twitter by Riot Games, showing only an infographic of what's to come. The patch balances some overpowered champions like Darius, Jhin, and Janna. This will stir up the scene in Teamfight Tactics even without the addition of new content. Here's the list of champion balances in TFT patch 10.15:
Buffs:
Darius
Graves
Jinx
Lucian
Master Yi
Urgot
Viktor
Nerfs:
Janna
Jarvan
Jhin
Rakan
Xerath
We know for a fact that Jarvan is getting a mana balance with his starting pool being from 40/80 to 60/100. Apart from that, there's no clear picture on how big those nerfs and buffs are.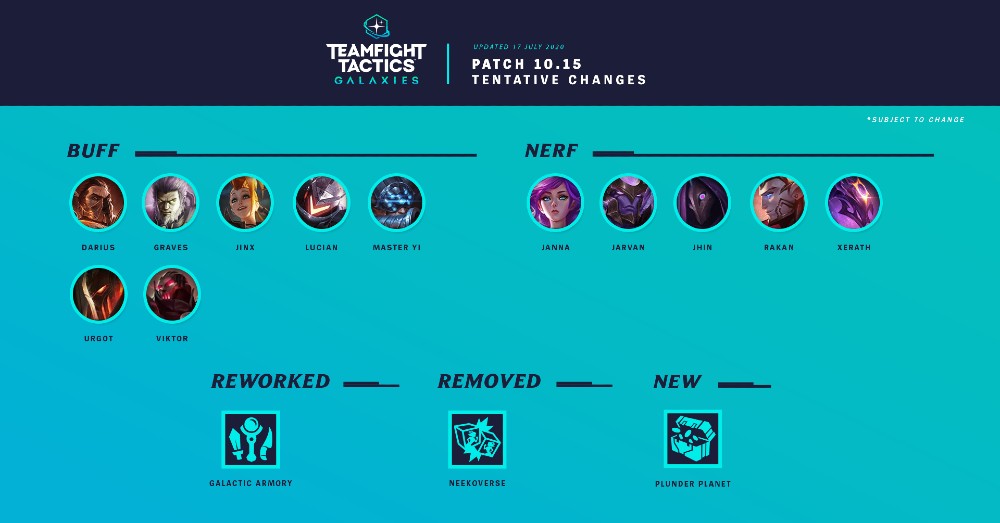 In addition to champion changes, the TFT Patch 10.15 will introduce a rework on Galactic Armory. Also, Neekoverse is getting removed and a new map variation, Plunder Planet is coming. It's hard to find out what the new variation will bring as a mechanic into the mix. However, it's safe to bet that it has something to do with additional loot, either in gold or items.